AGM-Battery
High-Tech – designed in black


Overview
The long-lived and maintenance-free AGM battery with absorbent glass fleece (or "mat") is the perfect solution for all START-STOP vehicles, including luxury models, and offers cycle stability up to three times higher than that of conventional batteries.
Portfolio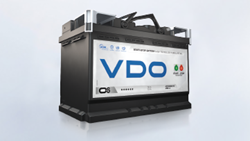 Thanks to the high load capacity, the battery is able to absorb large overvoltages from braking operations, making energy recuperation possible.
VDO in test at VDE-Institute
Our new battery technologies have proved themselves in a test conducted by the independent VDE Institute and comparing them with leading competitors.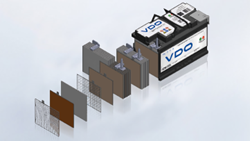 The test included:
Cycle stability:
Testing the service life of a START-STOP battery
Cold-start test:
Testing the endurance of the accumulator at extremely low temperatures and high currents
Deep discharge:
Quality pays off: Full two year warranty!
Thanks to the state-of-the-art technology VDO batteries offers unsurpassed power and durability for modern START-STOP-Systems with an up to three times better cycle-durability. VDO is convinced from this quality. Just offer your customer two instead of the customary one-year warranty.
Advantages
Innovative AGM technology (Absorbent Glass Mat) with high compression fleece separator
Latest OE Technology for advanced Start & Stop vehicles
At least 3 to 4 times more cycle life and can meet the demands of all Start & Stop vehicles and high-end luxury vehicles
High charging acceptance for absorbing large surges of electrical energy generated via brake energy recuperation
100% leak-proof and spill-proof to 360°
Excellent starting power, so you can rely on the engine starting, even at a low state of charge
Longer lifespan
Totally maintenance-free
START-STOP batteries compared to conventional batteries
AGM
START-STOP vehicles
Vehicles with advanced START-STOP System and braking
energy recuperation
Cycle stability
3x higher
Technology
AGM - Absorbent Glass Mat
Maintenance
Maintenance-free
Number of battery types
3
Cold cranking power
CCA 135 %
Specification
OE-equivalent
Quality level
OEM quality
Energy recuperation
yes
Deep discharge
Very good
Vibration protection
Very good
Charge acceptance
Very good
Technical data
| | | | | | | | |
| --- | --- | --- | --- | --- | --- | --- | --- |
| Technology | Battery type | Item number | Dimension [mm] | Weight [kg] | Voltage [V] | Capacity [Ah] | Cold-test current EN [A] |
| AGM | L3 | A2C59520011E | 278x175x190 | 18 | 12 | 70 | 760 |
| AGM | L4 | A2C59520012E | 315x175x190 | 21 | 12 | 80 | 800 |
| AGM | L5 | A2C59520013E | 353x175x190 | 23 | 12 | 92 | 900 |