EFB-Battery
Pure Energie – coated in silver

Overview
In recent years, the vehicles we deal with have been constantly developing. And VDO is always there to help with its innovative technologies. We now have some robust and high-performance additions to our product family.
Portfolio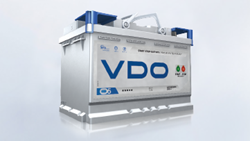 VDO supplies its maintenance-free EFB batteries with a glass fibre insert specially designed for vehicles equipped with entry-level START-STOP systems. This is a solution that makes low-resistance and rapid charging and discharging possible.
The VDE-Institute has tested us – test us, too.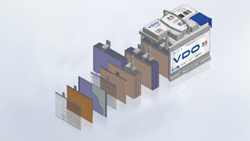 Every single VDO battery is the product of long experience and many years of expertise. And that makes a difference, as a test by the independent VDE Institute has shown. Our new battery technologies stands the test against the leading competitors in the categorizes cycle-durability, cold-start behavior and deep discharge.
Trust is good thing but a full two-year warranty is a better one.
The batteries have been developed and manufactured using state-of-the-art technologies. This is why VDO can give you a full two-year warranty.
Advantages
Positive electrode plate equipped with glass mat insert to enable a fast and low-resistant charging and discharging
Developed for vehicles with a basic START-STOP-System
Best cold-start current until up to 115%
Doubled cycle durability (200%) in comparison to standard batteries
High ability of deep discharge
Maintenance-free
| | |
| --- | --- |
| START-STOP batteries compared to conventional batteries | EFB |
| START-STOP vehicles | Vehicles with conventional START-STOP system |
| Cycle stability | 2x higher |
| Technology | EFB - Enhanced Flooded Battery |
| Maintenance | Maintenance-free |
| Number of battery types | 6 |
| Cold cranking power | CCA 115 % |
| Specification | OE-equivalent |
| Quality level | OEM quality |
| Energy recuperation | No |
| Deep discharge | Good |
| Vibration protection | Good |
| Charge acceptance | Good |
Technical data
| | | | | | | | |
| --- | --- | --- | --- | --- | --- | --- | --- |
| Technology | Battery type | Item number | Dimension [mm] | Weight [kg] | Voltage [V] | Capacity [Ah] | Cold-test current EN [A] |
| EFB | L2 | A2C59520000E | 242x175x190 | 17 | 12 | 60 | 560 |
| EFB | L3 | A2C59520001E | 278x175x190 | 20 | 12 | 70 | 650 |
| EFB | L4 | A2C59520002E | 315x175x190 | 22 | 12 | 80 | 730 |
| EFB | L5 | A2C59520003E | 353x175x190 | 24 | 12 | 95 | 800 |
| EFB | LB3 | A2C59520004E | 278x175x175 | 18 | 12 | 65 | 650 |
| EFB | LB4 | A2C59520005E | 315x175x175 | 20 | 12 | 75 |   |