What the label says is what you get in VDO product packages
Even high-performing products need protection
We put a lot of passion and experience into the development of our products, so we don't take kindly to inferior quality being sold with our name on the package!
We affix a two-stage security label to each product package, so you know 100% that it's an original product in there. 
Stage 1: the tesa PrioSpot®
The first stage of the security label is the tesa PrioSpot®. This anti-counterfeiting technology with various testing and security features offers maximum protection and allows the unambiguous identification of imitations.
Every PrioSpot® has a unique code that contains the last four digits of the MAPP code (Manufacturers Against Product Piracy) and shines with iridescent rainbow colours under illumination.
The tesa Priospot® is a refinement of the tesa Holospot®. The Holospot® is still available on the market, however, and continues to provide maximum security.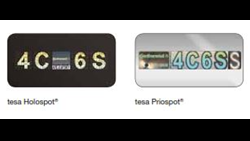 Stage 2: MAPP code with TecIdentify
We also achieve maximum security by adding a data matrix code called a MAPP code (Manufacturers Against Product Piracy). The last characters of this code are also represented in the Holospot® or PrioSpot®.
The code can be checked by scanner or by manual entry, so you immediately know if what you are checking is an original VDO part.
Enter the individual security code here General
Click in the query field with your mouse. Please use only one code per query and enter it without spaces or any other breaks. Make sure that the CAPS LOCK key is not activated because the query is case-sensitive.
Example code: (01)14006633314036(21)PPQDQM08YR64
 *Mandatory
Product trademark protection Information