The VDO REDI-Sensor
The VDO worry-free package – with the VDO REDI-Sensor
For simple logistics and fitting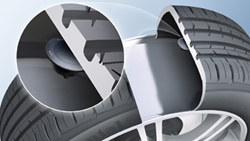 One sensor for (almost) every need
The VDO REDI-Sensor considerably simplifies storage and logistics for tire pressure monitoring systems (TPMS) . Whereas virtually every vehicle currently equipped with TPMS requires a specific TPM sensor, in the near future workshops will be able to equip a great many of the vehicles on the European market with only three different sensor variants.

Quick vehicle relearns instead of added sensor programming
The VDO REDI-Sensor has a decisive advantage over programmable sensor solutions: it is shipped pre-programmed with multiple protocols and requires no additional programming by garage personnel. It is simply affixed to the inner surface of the tire and, like OE sensors, ready for the vehicle relearn.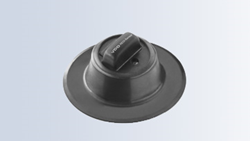 Well protected and easily fitted
The second big advantage is the position of the sensor. In contrast to conventional TPM sensors, which are attached to the valve, the VDO REDI-Sensor is glued to the inner surface of the tire. In this position it is much better protected against mechanical damage, installation is considerably easier and the task of preparing complete wheels is simplified. What is more, thanks to this position, the VDO REDI-Sensor can be used in combination with virtually any wheel rim. If the tire is changed, it can simply be removed from its rubber case, inserted into a new case and glued into place in the new tire.
VDO REDI Kit for garages
The VDO REDI Kit for garages makes fitting of REDI-Sensors easy and efficient. It contains all the tools and spare parts needed for installation and maintenance. Installation can be performed smoothly and reliably.
Contents
VDO REDI-Sensor push-on tool (1x)
Adapter for push-on tool (2x)
Rubber case for VDO REDI-Sensor (10x)
Spreader tool for rubber case (1x)
Assembly gloves (1x)
(Glue and liquid buffer are not included)
Additional information:
VDO REDI-Sensor push-on tool
The REDI-Sensor is glued to the tire inside the rubber case. This task must be performed with a defined force. The REDI-Sensor push-on tool ensures that fitting is carried out correctly and reliably. This tool is mandatory for fitting REDI-Sensors.
VDO REDI-Sensor spreader tool
This optional tool makes it easy to insert the REDI-Sensor in the rubber case when it has to be replaced. The tool spreads the rubber case, allowing the REDI-Sensor to be put in with little effort.
A proven system
Continental launched a multi-brand TPM sensor in the North American market back in early 2011. This highly successful concept has been further developed and adapted to the special requirements of the European vehicle fleet.

The system is available since summer 2014.

Contact
Telephone hotline: 
For technical questions please contact our VDO hotline:
Tel.: +49 (0) 1805-221242
Mon.-Fri. 9 a.m. - 12 noon, 1 p.m. - 5 p.m. (€0.14/min. from landlines in Germany, max. €0.42/min. from the German mobile phone network)
E-mail service:
Do you have questions about the VDO tire pressure monitoring system? Send commercial inquiries to:
tpms@vdo.com
Downloads (PDF):
Installation Manual
VDO REDI Senso­r Applicatio­n list
 Extranet
Technical and commercial product information plus instructions for partners (with login)
Training courses:
Continental Training 3.2 TPMS technology and practical application