ContiSys Check / ContiSys Check TPMS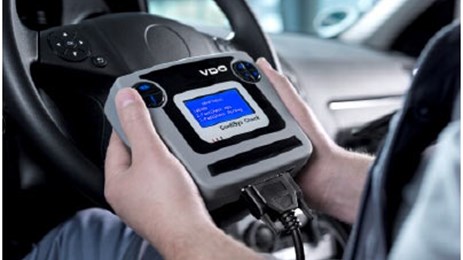 Easy, fast and reliable – the latest service tool from VDO
Intro
ContiSys Check is the successor to the popular ContiSys OBD Professional service tool. The  device is compact, easy to use and, thanks to optional software updates, always up-to-date.
With our FastCheck applications in the basic version of the ContiSys Check you can test devices such as ABS/ESP, SRS (airbags and belt tensioners), electric parking brakes (EPB), tire pressure control systems or air conditioning systems more easily and quickly than ever before.
FastCheck applications:
ABS/ESP incl. MB SBC
airbag (SRS restraint systems)
EPB (electric parking brake)
air conditioning
LWS (steering angle sensors)
service (inspection and oil service reset)
TPMS (tire pressure monitoring systems)
CR diesel injector coding
gearboxes (ASG & VAG DSG)
The available functions also include resetting service interval displays, calibrating VAG DSG systems, the correct adjustment of steering angle sensors and the necessary coding of engine control units when changing from CR diesel injectors. A valuable addition to the services you offer. Thanks to its optimized hardware it is extremely well-prepared for future functionality. For example, it can be extended with the optional TPMS frequency module. 
Benefits
for the efficient, reliable read-out of controllers on vehicle acceptance
to perform EOBD engine controller unit diagnostics
for the service – with more than 20 000 manufacturer-specific error codes
for resetting airbag and belt tensioning systems – ideal for bodywork shops
for operations on electric parking brakes, ABS / ESP as well as the MB-SBC system – ideal for workshops responsible for brake services
for the inspection and calibration of tire pressure monitoring systems (TPMS)
for the calibration of VAG DSG gearboxes
for resetting service and oil change interval indicators
for the teaching of starter batteries
for the teaching of CR diesel injectors
for the calibration of steering angle sensors
for the checking of air-conditioning systems
Variants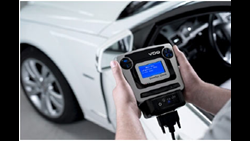 ContiSys Check TPMS
Be ready for the future now
Based on the ContiSys Check service tool, this variant is particularly oriented to TPMS tire pressure monitoring systems.
All the functions of the ContiSys Check service tool, with the additional facility of being able to read and display data directly from tire pressure sensors.
Why tire pressure monitoring systems?
Tire pressure monitoring systems increase safety, and by ensuring correct tire pressure they contribute to lower fuel consumption and reduced tire wear. For these amongst other reasons, the European Union has decided that tire pressure monitoring systems should be introduced in Europe.
According to EC Directive 661/2009, Article 9
all new type-approved vehicle models of Class M1* as from 01 November 2012
all new vehicles of Class M1 as from 01 November 2014
must be fitted with a tire pressure monitoring system.
These systems warn the driver when the pressure of tire, once warmed up, falls 20% below the normal value.
Frequency module communicates with wheel sensors
The ContiSys Check TPMS incorporates a frequency module for reading out the sensor data from tire pressure monitoring systems. This allows sensor data such as pressure, temperature and battery status to be read out directly through the wireless connection, and saved if required. At the same time, ContiSys Check TPMS is also able to use the service functions of the tire pressure monitoring system via the OBD interface (FastCheck TPMS). The ContiSys Check TPMS and the basic ContiSys Check device only differ in the extended software function and the TPMS frequency module that is bolted on. This module houses a rechargeable battery block which supplies the device with electrical power for up to 2 hours continuously, independently of the vehicle power system. If desired, the frequency module can be retrofitted to basic devices that you already have.
Software Updates
1. Download and Install the VDO Management Console
Download

2. Registration and Software-Update
After installation please enter your contact details.

3. Update Plus (12-month optional update service)
If required, get the ContiSys Update Plus (order VDO:A2C59514653 ATE:03.9301-6105.1).
Always completely up-to-date with Update Plus
Update Plus is the optimum software update service that can be purchased with any Service Tool and VDO diagnostic device. This service ensures that your diagnostic device is always equipped with the most recent software. The updates are made available regularly, and therefore guarantee the highest possible level of flexibility and reliability. And if the user does not want any more updates on expiration of the update period, then the basic operation of the diagnostic device can continue with the currently installed version.
Downloads
Documents

Computer Software
Accessories
| | | |
| --- | --- | --- |
| VDO item number |  Ate item number | Description |
| A2C59514444 | 03.9301-6000.4 | ContiSys Check- Kit |
| A2C59514445 | 03.9301-6500.4 | ContiSys Check TPMS - Kit |
| A2C59514446 | 03.9301-6010.3 | ContiSys Check - TPMS Module |
| A2C59514653 | 03.9301-6105-1 | ContiSys Check - Update Plus |
| A2C59514447  | 03.9301-6100.1 | ContiSys Check - OBD Cable |
| A2C59512084  | 03.9301-3014.1 | ContiSys Check - BMW OBD Cable |
| A2C59512975  | 03.9301-3015.1 | ContiSys Check - Fiat/Alfa/Lancia 3pin |
| A2C59512083  | 03.9301-3013.1 | ContiSys Check - Mercedes OBD Cable |
| A2C59512082  | 03.9301-3012.1 | ContiSys Check - Mercedes Sprinter Cable |
| A2C59512974  | 03.9301-3016.1 | ContiSys Check - PSA Cable 2pin <´98 |
| A2C59512080  | 03.9301-3011.1  | ContiSys Check - PSA OBD Cable |
| A2C59512079  | 03.9301-3010.1 | ContiSys Check - VAG OBD Cable |
| A2C59514540  | 03.9301-2023.1  | ContiSys Check - Honda 3/5 PIN cable |
Contact
Email: contisys-diag@vdo.com
Product support via e-mail: hotline@contisys-support.com
Product support hotline: +44 (0) 870 949 3606 (International)
(The cost of calls to the ContiSys telephone hotline is dependent on your telephone service provider.)