Single Instruments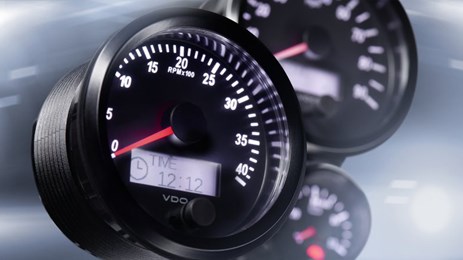 Overview
World Wide Gauges is a standardized instrument platform for special vehicles and stationary machinery. With modular solutions in three housing variants and in two different illuminations (front - or back light) solution. Based on this instrument platform very cost effective customized solutions are available (dial design).
SingleViu
The round-shaped instruments of the SingleViu product family are replacing the three existing families: WWG, Viewline and CANcockpit. SingleViu covers all applications of previous instruments and provides a consistent and flexible solution of cutting-edge technology. The SingleViu instruments have a dual-input, both for digital transmission with CAN bus and analog for customary sensors.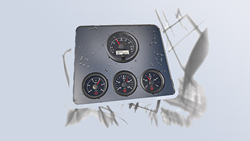 The individual instruments for temperature, tank, pressure, voltage and current display are available in a 52 mm diameter. Travelling speed and engine speed indicators are available in diameters of 80, 85 or 100 mm. The devices with 80/85 and 100 mm diameter have an internal sensor and an LCD display that can show the driver different data in "rolling mode".
For original equipment, retrofit or to replace existing instruments vehicle manufacturers can choose between a total of 74 variants.
All features and benefits at a glance:
CAN and analog input
Highly resistant thanks to mineral glass, high protection class IP67 and flame-resistant housing
Double glazing system prevents fogging
Configurability via PC tool and button
Design individually adaptable to customer requirements
Regarding the spare parts market, SingleViu instruments can be connected to the existing wiring harness via an adapter. The SingleViu product line is very versatile and can easily adapt to a great number of vehicles, such as agricultural, construction, commercial and motorcycles.
World Wide Gauges Cockpit International
 Panel installation
LC-display for speedo/tacho gauges
Front light technology
Benefits and Features
Analogue platform product
52, 80 and 100mm gauges available
Different fixation concepts (nut, studs and bracket)
Mineral glass lens
Metal bezel
Technical Data
Operating voltage 12 or 24 V DC
Operating temperature -30°C to +85°C
IP 64 protection class (front)
Front light
World Wide Gauges Cockpit Vision
Panel installation
LC-display for speedo/tacho gauges
Full backlight technology
Benefits and Features
Analogue platform product
52, 80 and 100mm gauges available
Different fixation concepts (nut, studs and bracket)
Mineral glass lens
Metal bezel
Technical Data
Operating voltage 12 or 24 V DC
Operating temperature -30°C to +85°C
IP 64 protection class (front)
Back light